About Smith Reynolds Airport
In addition to providing a safe, efficient, and convenient aviation facility at Winston-Salem, Forsyth County and the Western Piedmont, the airport provides substantial benefits to the local community.
Stimulus for Economic Development – For both small and large businesses, the airport's close proximity to the economic regions of Forsyth and neighboring counties is an incentive for location/relocation of businesses, because it allows executives to travel efficiently, bypassing the problems associated with airline travel.
Center for Employment – Companies who lease property and conduct business at the airport employ several hundred people in well-paying jobs.
Property Tax Revenue for City & County – Both the City of Winston-Salem and the County of Forsyth collect property tax on aircraft and equipment based at the airport.
---
Fixed-Base Operator
fixed-base operator (FBO) is generally described as an operation that provides services and facility amenities to aircraft, pilots, and passengers. At Winston-Salem Airport, Signature Flight Support is the sole provider of FBO services. Signature Flight Support has grown to become the world's largest network of FBOs, with over 100 locations providing consistent, exceptional service. Signature's worldwide compilation of FBOs deliver essential support services for business and private aviation, including refueling, hangarage, and a variety of other amenities essential to the safe and efficient operation of an aircraft. At Smith Reynolds Airport, Signature offers a number of amenities and services including:
Avgas and Jet-A Fuel
Rental Cars
Courtesy Transportation
Aircraft De-Icing
Oxygen
Concierge Services
Ground Handling
Passenger Lobby
Aircraft Sales
Executive Conference Room
Aircraft Charter
Pilot's Lounge
Avionics
Flight Planning Room
In addition to the amenities and services listed, Signature also has onsite equipment to service lavatories, and stairs to unload passengers from larger aircraft. Please visit their web site for additional information.
---
Airfield Infrastructure
The primary runway at Smith Reynolds Airport (INT) is Runway 15/33 which has a length of 6,655 feet and a width of 150 feet. The runway is constructed of asphalt and is grooved to provide additional traction during wet weather conditions. In 2008, Runway 15/33 was rehabilitated with an asphalt overlay and was then re-marked with precision and non-precision markings. Currently, the airport has an ILS approach to Runway 33, GPS approaches to Runways 15 and 33 and a VOR/DME approach to runway 15. To aid pilot visibility during instrument conditions, runway end identifier lights (REILs) are installed near the threshold of Runway 15; whereas, a medium intensity approach lighting system with runway alignment indicator lights (MALSR) is installed prior to the approach end of Runway 33.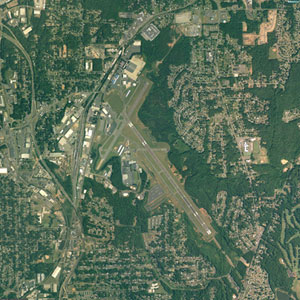 Runway 4/22 serves as the crosswind runway at INT. It has a length of 3,938 feet and a width of 150 feet. This runway is primarily used by small, general aviation aircraft or by flight schools to conduct their training activities. Runway 4/22 currently does not have the instrumentation or the lighting necessary to accommodate aircraft operations during instrument conditions.
Each runway at INT is supported by a full-length parallel taxiway. Taxiway 'A' serves Runway 15/33 to the west with taxiway connectors 'B', 'C', 'D', and 'E'; whereas, Runway 4/22 is served by the full-length parallel Taxiway 'F' with taxiway connector 'J'. Taxiway 'A' provides access to/from both runways to the terminal apron and Taxiway 'H' provides access to/from the large maintenance hangar areas to taxiway 'F'. Taxiways 'M' and 'N' provide access to the, centrally located, South T-hangars.
Paved apron areas are required for the parking of based aircraft in the form of tie-downs and also for transient aircraft parking in the form of open ramp. Multiple apron areas exist throughout the airfield for aircraft parking; however many of these aprons are directly associated with nearby hangars where private business is conducted.
The terminal building was constructed in 1941 and is located on the west side of the airport, adjacent to Taxiway 'F', with surface access via Norfleet Street and Liberty Street. The terminal building was previously used by commercial airline passengers until 2000, when US Airways ceased commuter operations to the airport.
The Aircraft Rescue and Firefighting (ARFF) facility is located on the south side of the airfield between runways 4/22 and 15/33 and is accessible from N. Liberty Street by taking Fairchild Rd. which turns into Aviation Drive. Aviation Drive leads directly to the ARFF facility, airport maintenance, and to the Heritage maintenance hangar.
---
Airfield Information and Updates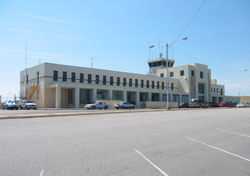 In January 2015, the Airport Commission of Forsyth County completed a project which strengthened and rehabilitated a portion of Runway 4-22 at Smith Reynolds Airport in Winston-Salem. The project cost approximately $2.5 million and was funded 90% by the FAA and the NCDOT.
In July 2010, the Airport Commission of Forsyth County, with assistance from the Federal Aviation Administration (FAA) and the North Carolina Department of Transportation (NCDOT), completed the Runway Safety Area (RSA) project off the end of Runway 33 at Smith Reynolds Airport in Winston-Salem. Due to existing terrain and land restrictions at the airport, the project required new technology which is referred to as Engineered Materials Arresting System (EMAS).
EMAS is a bed of crushable concrete placed at the end of a runway that is designed to save lives and to minimize damage of aircraft that may run off the end of a runway. EMAS systems are often compared to runaway truck ramps used on steep-grade highways. The best material found to date is a lightweight, crushable concrete. When an aircraft rolls into an EMAS arrestor bed, the tires of the aircraft sink into the lightweight concrete and the aircraft is decelerated by having to roll through the material. The EMAS technology provides safety benefits in cases where land beyond the runway end is not available, which is the case at Smith Reynolds Airport.
To complete the RSA project, the Airport Commission of Forsyth County received 90% federal funding. Taylor & Murphy Construction Co., Inc. completed the project with engineering and inspection oversight services provided by Avcon, Inc. Approximately 430,000 cubic square yards of dirt were required for the project and the total project cost was approximately $11 million. This was the final stage of a multi-year project which included a runway overlay project totaling $3.5 million to improve the conditions of the 6,655 feet Runway.

Providing a safe, efficient, and convenient aviation facility at Winston-Salem, Forsyth County and the Western Piedmont.
Find Us
Smith Reynolds Airport
Suite 204
3801 N. Liberty St.
Winston-Salem, NC 27105