Business Opportunities
Business in Winston-Salem
Business in Winston-Salem
Business in Winston-Salem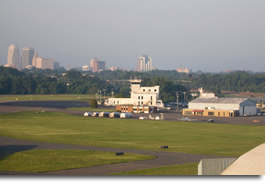 Located in Forsyth County in the Piedmont Triad region of North Carolina, Winston-Salem is well suited for business relocation and expansion.
Winston-Salem offers a diverse demographic make-up, strong labor force, competitive tax rates and an excellent supply of office and manufacturing sites. Explore this site to see what makes Winston-Salem, North Carolina an ideal location for advanced manufacturing, financial services, distribution/logistics, healthcare/life science and data centers.
Winston-Salem/Forsyth County is located in the Piedmont Triad region of north central North Carolina. North Carolina is the 9th most populous state in the nation, with an estimated 2018 population of 10,390,149. The state is part of the South Atlantic region, which the Census Bureau estimated having a population of over 64 million in 2017. This region is one of the fastest growing parts of the U.S.
The Piedmont Triad region is an eleven-county area of more than 1.7 million residents and is equidistant from Washington, D.C. and Atlanta. The counties that comprise this region are Alamance, Caswell, Davidson, Davie, Forsyth, Guilford, Randolph, Rockingham, Stokes, Surry and Yadkin. The urbanized core of this region is the ten-county CSA known as the Winston-Salem—Greensboro—High Point Combined Statistical Area, with a current estimated population of over 1.6 million people.
Strategic Location & Infrastructure
The region lies at the intersection of five interstate highways (I-40, 73, 74, 77, 85) and a number of major federal highways (US 29, 52, 70, 220, 311, 421).
Forsyth County is within 650 miles of more than half of the U.S population and most major domestic markets. Local freight service is provided by Norfolk Southern and CSX.
The region has one of the largest concentrations of trucking companies on the East Coast. FedEx Ground and UPS Ground both maintain regional sorting hubs here with collective sorting capabilities of over 100,000 packages per hour. Winston-Salem is only 3 ½ hours from North Carolina's two deep water ports at Wilmington and Morehead City.
Workforce and Education
Favorable Business Climate
No inventory tax
Utilities known for their low cost and high reliability
State and local incentives
North Carolina is a right-to-work state

Providing a safe, efficient, and convenient aviation facility at Winston-Salem, Forsyth County and the Western Piedmont.
Find Us
Smith Reynolds Airport
Suite 204
3801 N. Liberty St.
Winston-Salem, NC 27105